Overview
MT TODD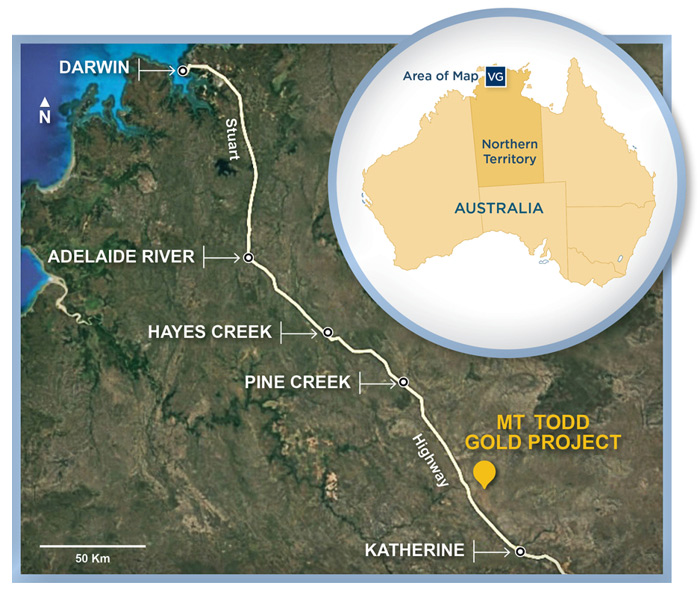 Northern Territory, Australia
Vista's 100% owned Mt Todd gold project is positioned to be one of Australia's largest gold producers on an annual basis, with global competitive all-in sustaining costs. Located approximately 250 kilometers southeast of Darwin in Northern Territory, Australia, Mt Todd contains measured and indicated gold resources totaling more than 7.8 million ounces with significant deposit and district exploration expansion potential. The recently completed feasibility study reported 6.98 million ounces of proven and probable reserves (280.4 million tonnes with an average grade of 0.77 g Au/t at a cut-off grade of 0.35 g Au/t).
Mt Todd is partner ready. Vista has eliminated most of the project development risk by receiving the approvals for all major environmental permits and the Mine Management Plan (operating permit), completing advanced metallurgical testing and optimization work, and completing the Mt Todd feasibility study.
Mt Todd is a "brownfield development" project with significant existing infrastructure (with current replacement value of approximately $130 million) including: paved access from the major transportation corridor, a natural gas pipeline to site for future power generation, medium-tension power lines for present power needs, a fresh water reservoir, tailings impoundment facility, and readily available labor and technical personnel. These factors, coupled with the scale, attractive location, and anticipated production/cost profile of the project, place Mt Todd on a short list of one of the most attractive, well-advanced development-stage gold projects in the world.
In March 2022, Vista appointed CIBC Capital Markets as its strategic advisor to seek a partner or other form of transaction to maximize shareholder value from the Company's Mt Todd gold project. The process is ongoing, and management believes the completion of an acceptable transaction may be dependent on sustained improvement and stability in the economy and capital markets.